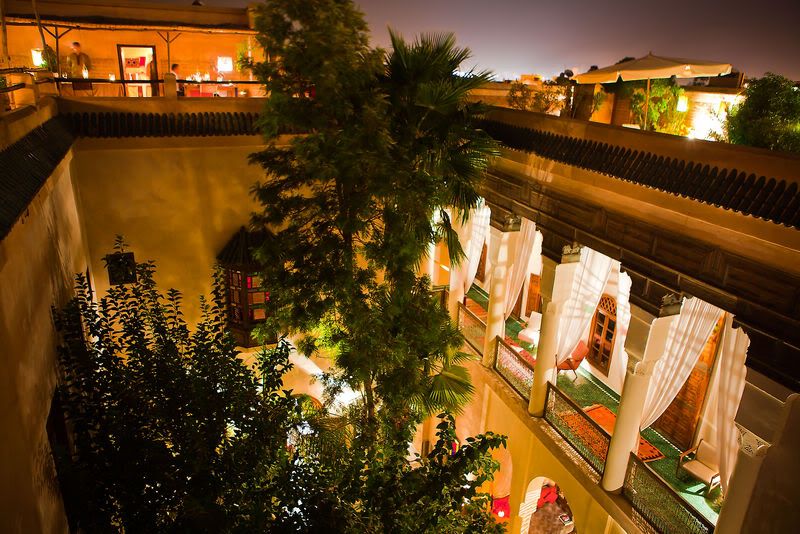 Well, it's July and while many of my friends and colleagues are on the brink of taking some fantastic summer holidays, I don't have any such travels to look forward to. I can't complain though - I've already taken holidays in three different countries this year! While I've mentioned my trips to Montreal and New York in April and May, I actually took a much more exotic trip back in February to Marrakech, Morocco.
It was a bit of a culture shock, to say the least, but after a while I became accustomed to the heat, the pace, the ever-present merchants always looking to barter and the frankly terrifying seeming lack of any road traffic laws! We were very fortunate to experience the hospitality at
Riad El Fenn
and I couldn't resist sharing this extraordinary hotel with you.
Down a narrow alley, behind an unassuming door is
Riad El Fenn
. The property itself is nearly 200 years old, but has been painstakingly restored by its owners and now features a wonderful mix of original architectural details, modern decorative touches, artisanal Moroccan textiles and a bold modern art collection (I spotted works by Bridget Riley and Antony Gormley to name a few). The word Riad refers to a traditional Moroccan house or palace with an interior courtyard - on entering El Fenn, the courtyard is revealed and it is breathtaking. A beautiful marble fountain trickles water into a basin filled with rose petals and apart from the sound of birds singing, it is a remarkably quiet place, with the bustling city sounds somehow fading away. There are 20 suites all leading off the courtyard on the ground and upper floors - each with a distinct decorative flair. The attention to detail is immaculate!
Many more gorgeous images after the jump!
The courtyard features many relaxing seating areas around the central foyer. Perfect for enjoying a relaxing break, sipping herbal teas and eating traditional Moroccan pastries.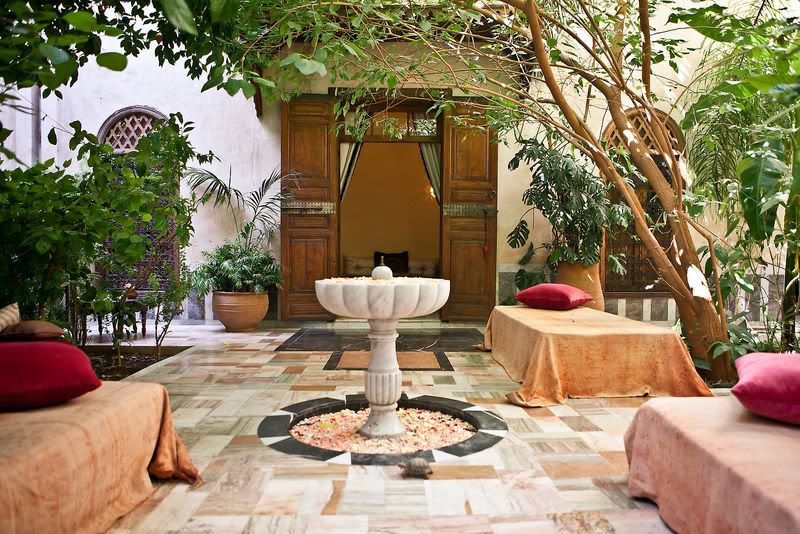 Even the corridors are beautifully decorated with an eclectic mix of traditional floor tiles, sumptuous textiles, stained glass lighting fixtures and carved wooden doors and archways.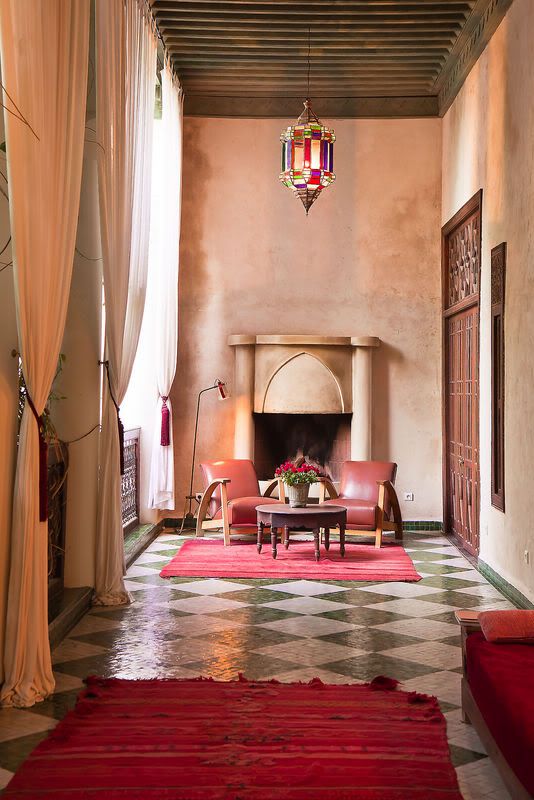 Each bedroom is uniquely decorated - I love the terracotta walls which are also echoed in the gorgeous bedding and rug.
The delicate painted patterns in the arches above the windows in this room are lovely.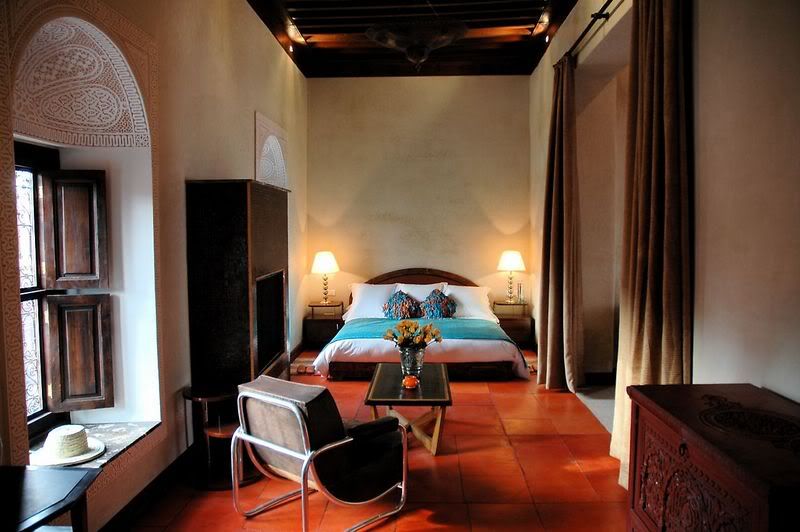 The juxtaposition of the dark marble, cool floor tiles and dark wood gives a real sense of drama to this bathroom.
We enjoyed most of our meals on the gorgeous roof terrace which offered amazing views across the rooftops of Marrakech including the stunning minaret of the 12th Century Koutoubia mosque.
If you're planning a trip to Marrakech, I would highly recommend this stunning hotel! Does anyone have any exotic travel plans for the rest of the Summer?