I'm not usually a fan of traditional decor. My favourite decor is almost always mid-century modern, but generally if it features clean lines, a neutral colour palette and a modern sensibility then you can count me in! Every once in a while though, a very special property comes along which makes me reconsider. This week's dream home is definitely one of those properties!


This amazing home can be found on a bluff overlooking Sweden's Lake Mälaren and commands a magnificent view of the serene lake, while you can make out the Stockholm skyline in the distance. The home was originally built in 1880 on land leased from the King of Sweden. The land continues to be leased from the Swedish Royal Family - how many people can say that the King is their landlord?! Traditional furniture and textiles are mixed with bold colours and patterns to bridge the gap between traditional and contemporary to great effect.
Let's dive right into the bright and breezy entrance - love how the predominantly white room is balanced by the natural wood paneling on the far wall.
Normally the mix of contrasting prints on the walls, furniture and textiles would have me running a mile and yet in this context, I find it totally charming!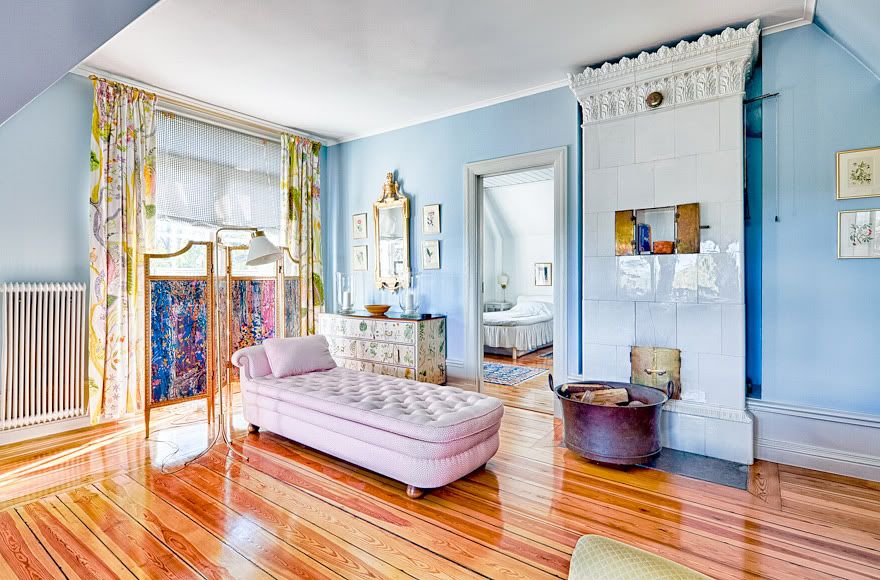 So many wonderful things about this room - the bold curtains, the gorgeous screen, the original fireplace and the chaise longue (I can't be the only one among us who has always wanted a chaise longue!)
Where has this library been all my life? Pink chairs, yellow sofa, blue walls, fabulous rug, books galore and arched windows? Yes please!
If you do happen to need a break from all of the patterns, textures and bold colours, heading down to your private dock to look across the lake should do the trick!









What do you think of this home? Does the mix of traditional and contemporary work for you?